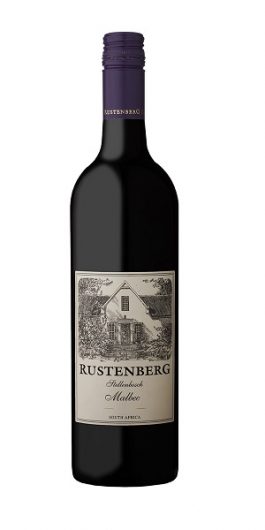 Very polished and creamy with lovely, sappy, thick-skinned plums and baking spice intensity.
DWWA 2021
Malbec has found a welcoming home in Stellenbosch, flourishing along with the other Bordeaux red varietals that the region is renowned for.
In its youth Rustenberg's Malbec exhibits very attractive purple hues with dark fruit flavours such as plum, blackberry and violets, along with pepper and tobacco. As the wine ages it will reveal a more savoury fruit profile.
ORIGIN
WINEMAKER
VARIETY
FINED USING
TIME IN OAK
MALOLACTIC FERMENTATION
CLOSURE
BOTTLE SIZE
REGION
VEGETARIAN
VEGAN
Vintage conditions
The 2019 vintage was a challenging one for the Rustenberg team. While the winter of 2018 was a welcome break from the previous four winters of drought, most vineyards had not fully recovered and produced below average yields. A warm snap in June and a wet Spring, coupled with a wetter than average Summer harvesting season made 2019 a challenge, with some late harvest thinning or multiple harvests of the same vineyard required to achieve uniformity. Early and mid-season ripening varieties performed well, all achieving flavour ripeness at lower alcohol levels, while late ripening varieties required patience and extended time on the vines, again achieving lower alcohols overall, but creating ripe, structured wines.
Vinification details
Grapes were hand picked and crushed and de-stemmed on arriving at the winery. Fermentation took place in stainless steel tanks with regular pump-overs and an extended maceration of up to seven days. After primary fermentation the wine was transferred to 10% new and 90% second-, third- and fourth-fill French 225L oak barrels for 15 months' maturation.
Awards
DWWA: Silver
Green credentials
Accredited Integrated Production of Wine (IPW) estate.
Have a trade enquiry?
Contact us to discuss