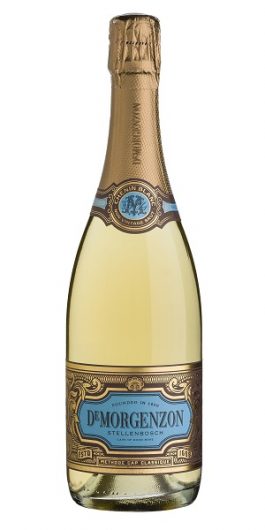 The palate is fresh in the mouth with touches of lime and green apple, a keen line of acidity with a lively citrus-fresh finish. Recommended.
eRobertParker.com
Chenin Blanc Method Cap Classique, DeMorgenzon
DeMorgenzon's Method Cap Classique is a non-vintage and makes use of blending different base wines to maintain consistency in the final product.
Honey, white peach and hints of pineapple are complemented by savoury notes of roasted almond and toasted brioche. A fine mousse and refreshing acidity provide a remarkably refreshing drinking experience.
ORIGIN
WINEMAKER
VARIETY
FINED USING
TIME IN OAK
SULPHUR
MALOLACTIC FERMENTATION
CLOSURE
BOTTLE SIZE
REGION
Vineyard information
DeMorgenzon is renowned for producing world class Chenin Blanc. Cool ripening conditions and deep granite-based soils result in crisp and textured wines. Vineyards destined for MCC are managed specifically to provide good sun exposure to grapes that are being picked earlier than usual.
Vinification details
The grapes were handpicked and harvested for freshness and acidity at between 18.5º and 19.5º Balling. Grapes are pre-cooled and then whole bunch-pressed with the juice allowed to settle naturally. Half of the wine was fermented in stainless steel tanks and the other half in older French oak barrels. The wine was aged without S02 for 5 months and on the lees for a total of 11 months before the base wine was prepared for bottling. The wine was further aged in the bottle on second ferment lees for 18 months. Final dosage is done with a 'late harvest' style of Chenin Blanc which is fermented and aged in French oak casks.
Awards
Tim Atkin MW: 91 pts
Green credentials
Accredited Integrated Production of Wine (IPW) estate.
Have a trade enquiry?
Contact us to discuss